Client Focused Law Firm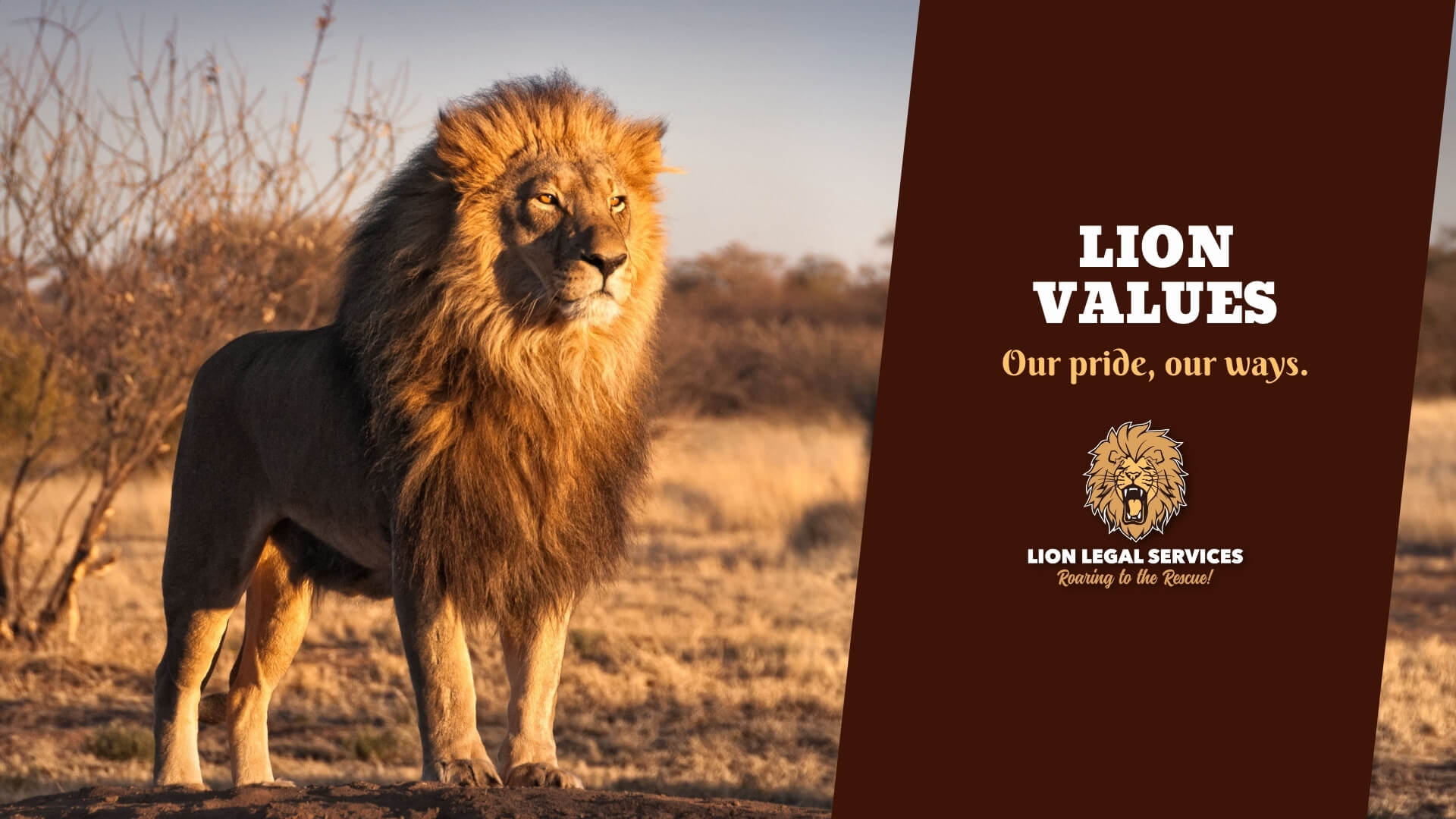 These are our Lion Values
Lions are regal. They fear nothing. They're powerful; yet poised. Lions don't back down from a fight; but, have the wisdom to not fight every battle. Lions show leadership, strength, good judgment, and compassion in all aspects of life and business.
Down to Earth
Affordable
Realistic
Clear Communication
Process-oriented
Appreciation
Integrity
Empathy
Transparent
Reasonable
Always Prepared
We live our Lion Values
We live our values by never misrepresenting likely results, real-life benefits of our services, and always doing what we say we will do.
We are client centered
We put our clients first by making decisions based on the client's perspective and experience. Clients come first in all aspects from the first phone call to closing the matter.
There is a subtle difference in telling a client what to do and presenting the client with all options, conducting a thorough explanation of costs and likely results of each option and allowing the client to choose; the latter focuses on the client.
Bad news is delivered as soon as possible; have solutions prepared and anticipate client's reaction by thinking through the Satisfaction Triangle of process, emotion, and substance of the issue.
What's good for clients is good for our law firm
Client centered means we are firm centered. The two drive each other. Being client centered is positive for the firm because it drives a positive reputation and referrals. And happy clients result in enjoyable daily work experience.
Being firm-centered is positive for our clients because an efficient, innovative law firm improves the bottom line and provides us more resources to invest in client-centered initiatives.
Lion Legal Services is a full-service law firm, from initial transactions to final contested multi-day trials. Our Lion Values prepare us to come Roaring to your Rescue.
We Can Help
If you are looking for effective legal representation in Arkansas that won't break the bank, look for us at lionlegal.com. We will help you figure out your options and what the likely realistic result is in your circumstances. Say the word and we'll come Roaring to the Rescue!
Call For A Free Case Evaluation
Case evaluations are completely free. Call Lion Legal Services today at (501) 227-ROAR (that's 227-7627) or Email Us to set up a free consultation.